Preamble
Skip ahead to the next section if you just want to see some pictures
About a year ago, I unfortunately had to turn down a job in Whitehorse with the Yukon Government. So to make sure that I didn't miss any postings in the future, I wrote a short R script to scrape the Yukon's job listings page.
Every morning the script would run on my local Raspberry Pi server and see if there were any new job listings. If there were, it would send me an email with some basic information like title and department. In addition to emails, the script also saved new listings in an SQLite database for preservation. This is also how the script knew that a job post was new. It compared the scraped job postings to those already saved in the database.
Just anecdotally, I noticed the daily emails stopped for a while around April. I guess recruitment was put on hold during the early days of Corona lockdown. Once the emails did resume, it was mainly medical positions, like nurses etc.
Sadly, no suitable position popped up during the past year but, being a data analyst, I didn't want all the data I scraped to go to waste. So I thought it would be interesting to take a look at a few stats about Yukon Government job postings over the past year.
Note: Just to preface these numbers, when I talk about a new job listing what I mean is a job listing with either a new ID or a new closing date. I chose this definition because I noticed that sometimes the same job listing would get re-posted with a new closing date. Also, I think some job listings can be for multiple open positions. So a new posting doesn't necessarily equate to only a single job opening.
Totals
In total, I collected 440 job postings throughout 2020. I started collecting listings in late January 2020 until the end of December 2020. So not quite a full year but most of the postings from the beginning of January were probably gathered in the initial scraping. So I would say it's roughly the full year.
51 job listings contained the title 'nurse' or 'RN', by far the most common. This means over 10% of job listings are for different types of nurses. Become a nurse if you want an easy time finding work in the Yukon.
36 job postings were re-listings (same ID but different closing date). I don't know the specifics of why each posting was re-listed, it could be a lot of reasons. However, one reason might be that the position was unable to be filled and maybe this means that these are difficult-to-fill positions.
Of these 36 re-postings, 7 (almost 20%!) were nurses or RNs. Did I already mention you should become a nurse if you want to find work in the Yukon? Several others were generally high-level positions like: directors, managers, supervisors, etc. And some were more specialized jobs like Infection Control Coordinator.
Cities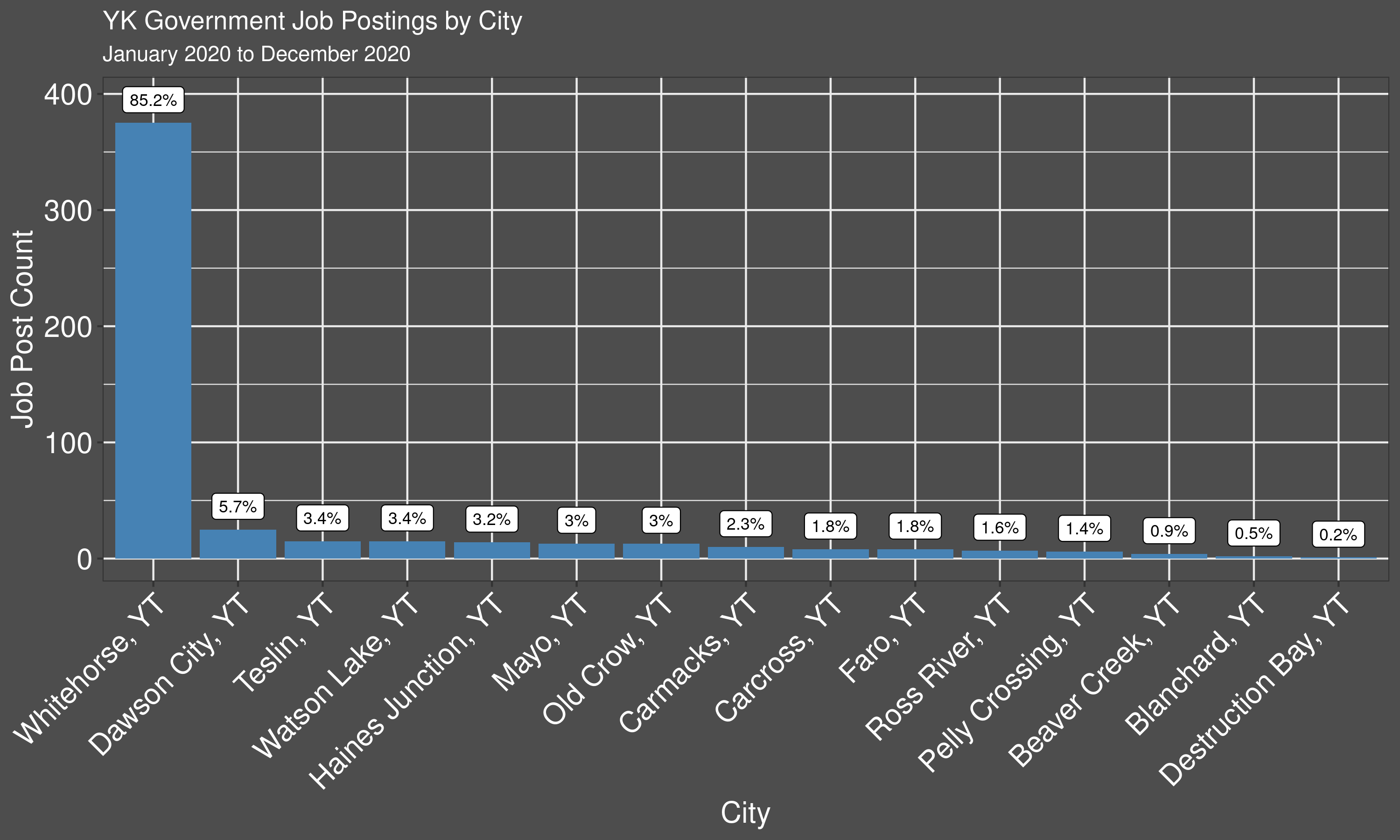 It shouldn't be much of a surprise that the vast majority of job postings are for positions in Whitehorse, followed by Dawson City at a distant second.
Job postings that contained multiple locations got counted for each city. So the percentages shown add up to more than 100%. There were quite a few job postings applicable to more than one location.
Departments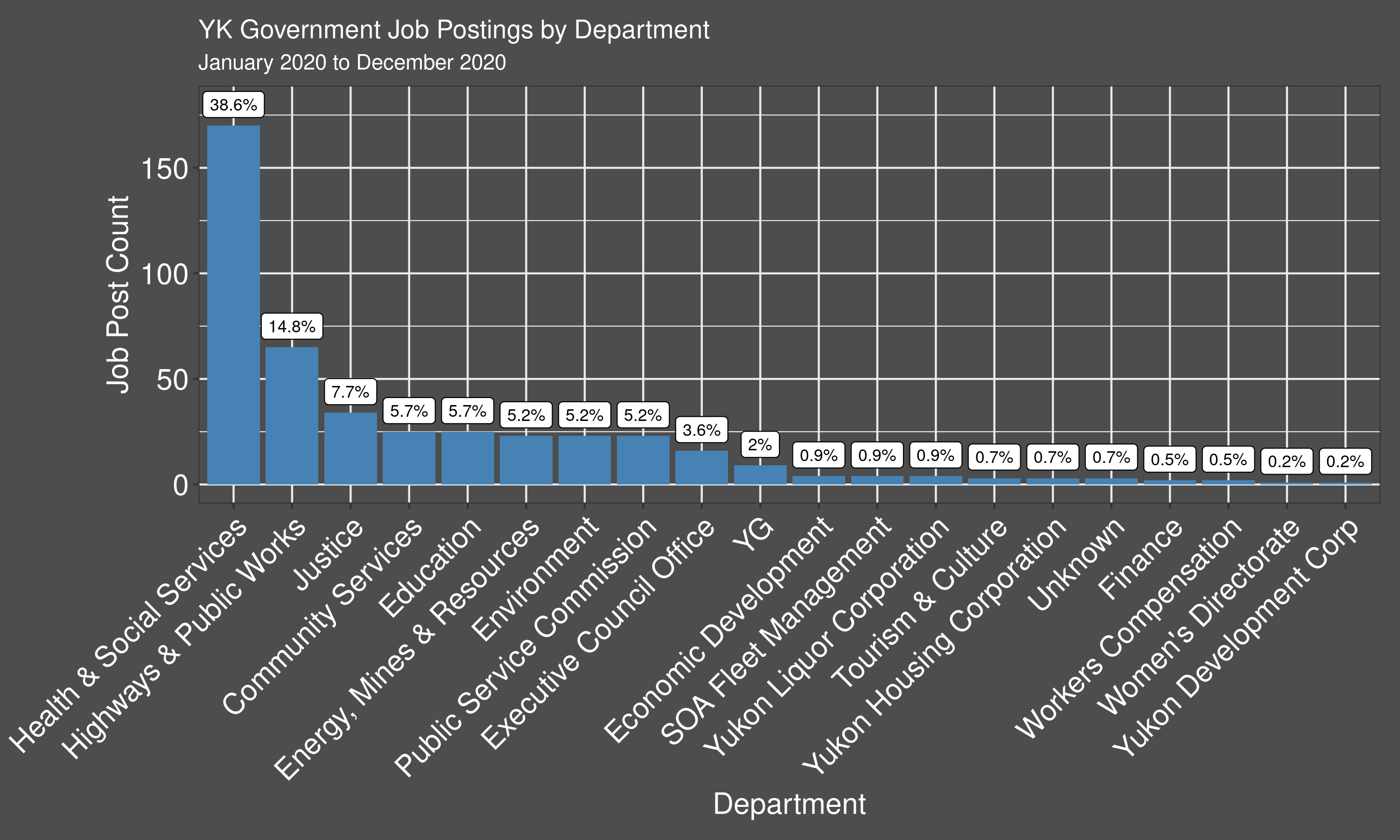 Here we see the number of job postings aggregated by department. I left out sub-departments because there are too many and would clutter the chart.
Similar to locations, departments are also quite skewed towards a few big ones. With Corona putting a freeze on a lot of hiring, then resuming only health-related recruitment, it makes sense that the Health and Social Services department had the most job postings in the last year. Highways and Public Works also had quite a few open positions this year. Education having so few job postings surprised me a little. I thought it would have been higher.
It would be very interesting to see how this compares to previous non-Coronavirus years.
All Job Postings
Just for fun, below is a sunburst plot with all the job postings I collected grouped by department and then job title. Try clicking on a department to view all the job postings under them over the past year.
Data and Scripts
For anybody interested in the data I collected, or the scripts I used, visit the project on my GitHub. I have the job postings there in CSV format as well if somebody wants to take a look themselves.
One thing I didn't collect (that I really should have, had I had more forethought) was the day each job posting was listed. It would have been cool to see recruitment of different department change drastically week-by-week during the lockdown.
Thanks for reading!